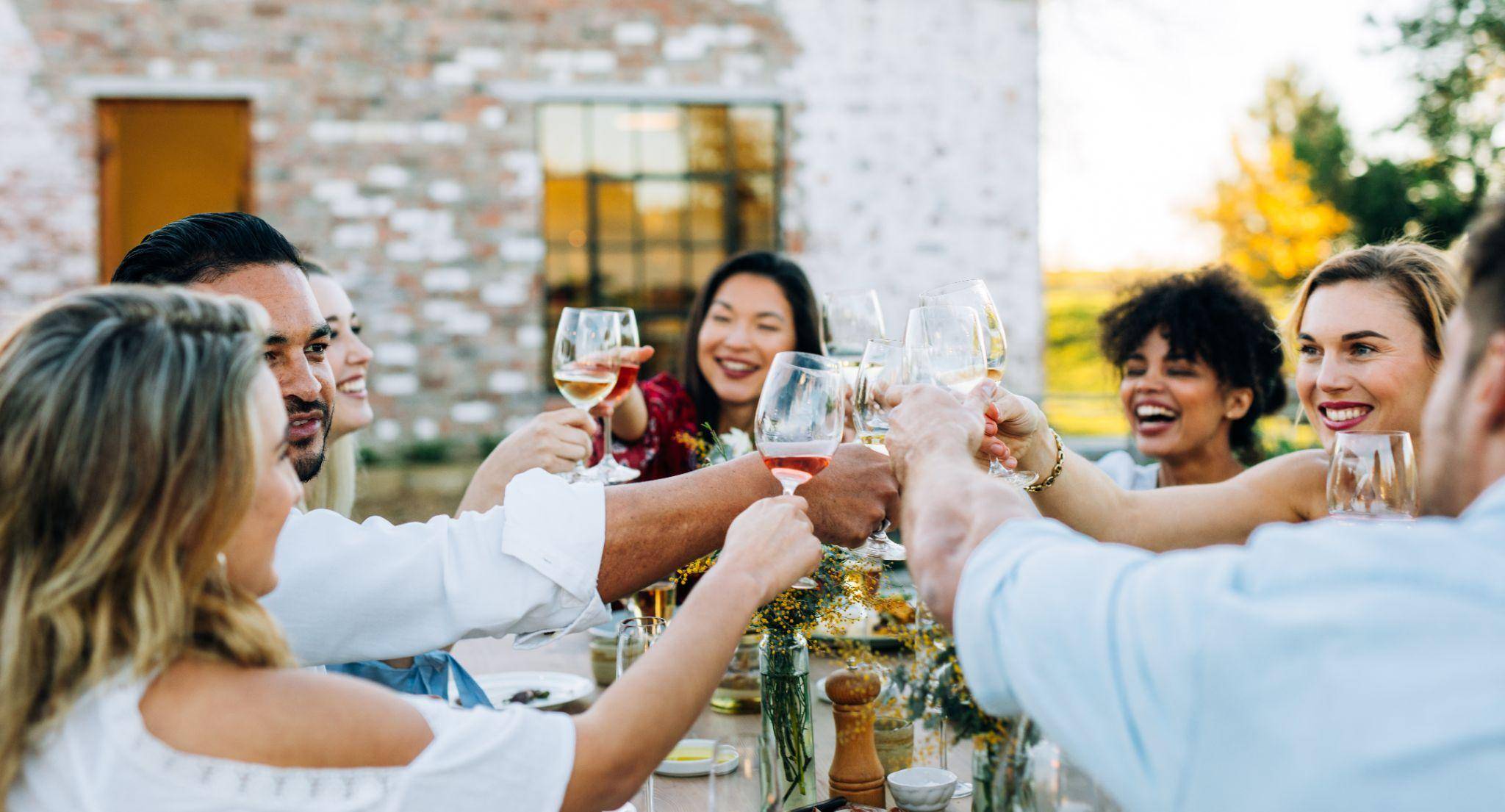 The breezy sights and sounds of summer have now been replaced by the warm colors and indulgences of fall. These tips for your outdoor entertainment space will help you and your guests enjoy all of autumn's moments to the fullest.

Offer Food and Drink Throughout
Setting up a cooking area or complete outdoor kitchen can be great backyard ideas, as can self-serve spaces for food and drink. These will allow your guests to feel at home and indulge at leisure throughout the evening while you spend more time socializing.
Consider setting out items at selected intervals to keep things moving. For instance, hors d'oeuvres are perfect for the beginning of your evening, followed by your main course and dessert. After coffee and tea, set out snacks to keep guests satisfied well into the wee hours.
The same formula can be applied to your beverage service. Alcoholic and non-alcoholic drinks and their accouterments can be mainstays, with coffee and tea served at dessert time.
Lighting
Shorter fall days mean having less light to work with. If your open air event begins in the evening or will extend beyond it, lighting will definitely be an important part of your celebration.
Add an air of elegance to your food and dining areas with multiple candles in a variety of widths and heights beside an illuminated water feature. Over seating areas, consider bistro or string  lights.
Tiki torches can pair perfectly with the warmth of an open fire. Solar lights will illuminate the way for guests entering the party area or making their way into your home.
Any lighting on dimmers will allow you full control over ambiance. You can make incremental adjustments as the sun sets, increase illumination for activities and entertainment, and provide much-needed task lighting for post-party cleanup.
Entertainment
The entertainment you offer at your gathering will depend on what blend of guests you've invited, as well as its purpose. An elegant gathering for clients, for example, may call for live musical entertainment as a backdrop for your meal, as well as afterward so that your guests can enjoy some dancing.
A disc jockey can also provide background sound and dancing favorites, which can be ideal for less formal and elegant gatherings alike.
Activities may also be part of time spent with friends and family. Consider offering several game choices, including charades and life-sized jenga to keep the fun going if this aligns with your ideas for a backyard entertainment space.
Guests with children will appreciate coloring and crafting stations and fresh air gaming areas for older children.
Banish Bugs
Depending on where you are located, insects like mosquitoes may still be in full force during autumn. If this is the case, be sure to have lots of tools on hand for guests to combat them, such as citronella candles and bug spray.
Ensure Maximum Comfort
Comfort is king during cooler autumn nights. When you're hosting an unforgettable fall soiree, consider the many benefits of an outdoor fireplace or fire pit. Also, have plenty of patio furniture with throws so that guests can really settle in.
Your outdoor cushions will be front and center at your gathering. Will guests be inspired to linger around your sitting area or will some uncomfortable shifting be necessary to find that cozy spot? Ensuring that your outdoor furniture offers maximum comfort is absolutely essential.
Exclusive Designs That Elevate Your Outdoor Entertainment Area
If you'll soon be entertaining guests at your home this season, you may be considering how best to upgrade your outdoor space. Cush Living specializes in the design of luxurious custom cushions and decorative pillows that not only reflect your unique personal style, but that also match your indoor decor.
All of our collections are created with 100% solution-dyed acrylic to offer all-weather durability as well as unparalleled elegance. Bring your design ideas for a perfect backyard to our design concierge service and watch them come to life.
Our design concierge service also includes outdoor space design, custom outdoor replacement cushions, and much more. Discover how Cush Living works with you to create your exceptional exterior. Look through our catalog today.
Recent Comments
No comments to show.