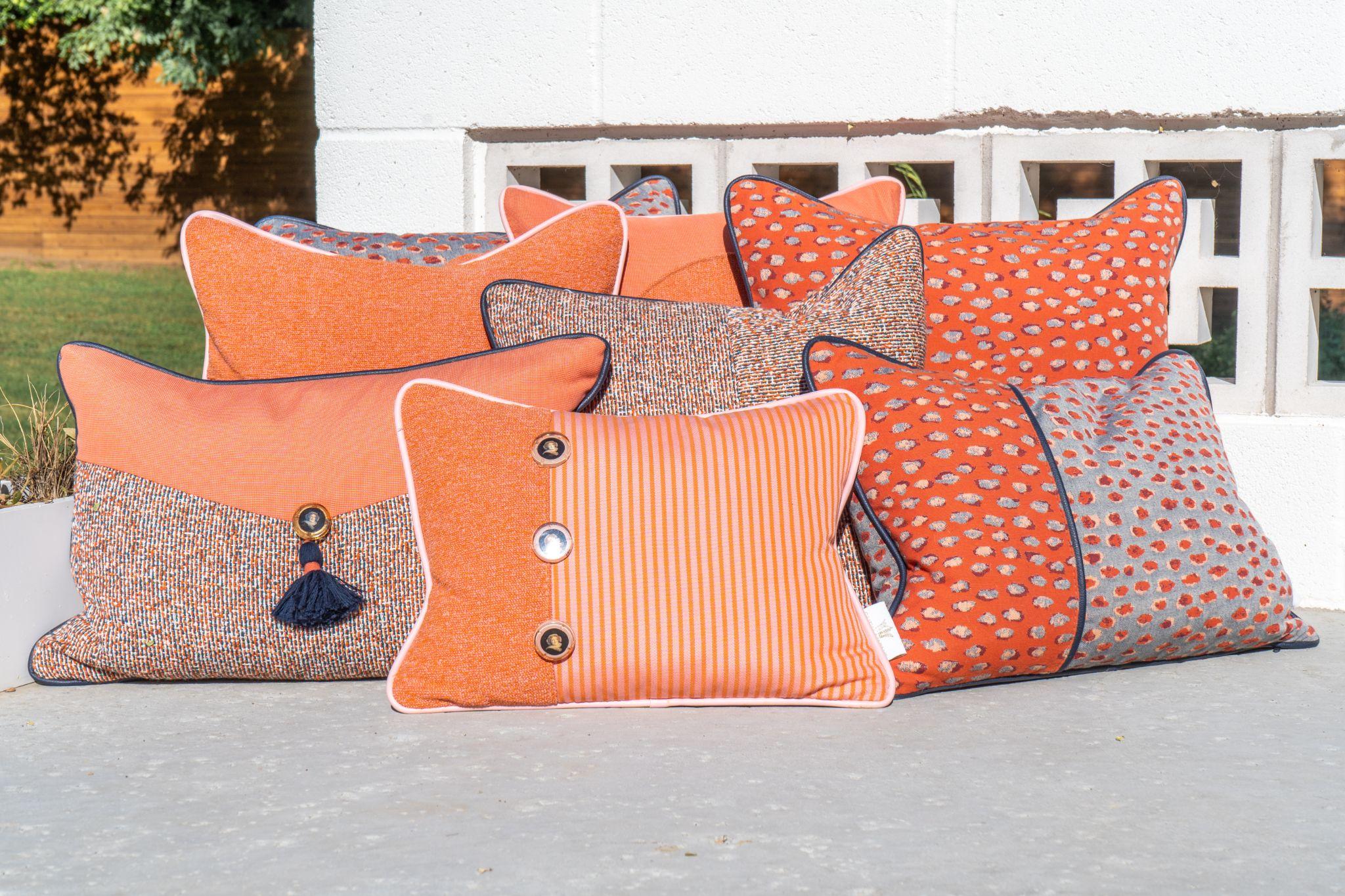 Are you looking for an easy yet impactful way to spice up the look of your living spaces? Start with cushions! Mixing and matching throw pillows can make any indoor or outdoor room instantly more interesting and stylish. We'll reveal how to do it.
The Rule of Three: Should You Follow It?
We'll tell you a secret: Interior designers use something called the Rule of Three when styling clients' homes. Basically, the Rule of Three dictates that no more than three elements—such as colors, patterns, or styles—should occupy any room.
This guideline is very effective and can be used virtually anywhere to create a professional look. What if you can't stick to this odd number of pillows or elements? The great news is that
you don't have to if you don't want to! Your pillow combination can contain any number of elements, as long as it's something you're going to love looking at.
Find Your Inspiration
Looking around the room, note what catches your eye. Maybe a piece of art contains a color you really love, or there are hues that "speak" to you in your floor covering. You may adore the texture of an old quilt or the pattern of your curtains. Wherever you see something that inspires you, this is something you can draw from and build on when pillow mixing.
Choose Your Direction
Now that you have your palette of elements, your next step is to look around the room once more. This time, take note of its general color. Is it mostly neutral shades you're seeing or does the room have more contrasting, dramatic colors?
A neutral color scheme can benefit from bright pops of solid-colored pillows as well as funky patterns in muted shades. If the colors are already dramatic, consider pillows that echo patterns in the room. You can also look to see which colors dominate and shop for throw pillows that balance these with less-obvious shades.
Pillow Considerations
In addition to the elements mentioned above, you can mix and match pillow size and shape and the direction of your patterns.
The number of pillows is really up to you. Whether you're a minimalist or cushion-crazy, anything you love is the perfect amount! Mixing sizes is a great way to add visual interest to a room. Combine different-shaped cushions, such as lumbar or bolster pillows, for dimension and depth.
If you want to add a bit of texture to your space, which will also help add warmth and elegance, try layering fabrics such as velvet, boucle, or chenille, which are all available in solution dyed acrylic options, making them perfect for inside or out! Remember that some rules were made to be broken; don't be afraid to go full-on glam if that's what you want to do!
Pattern Mixing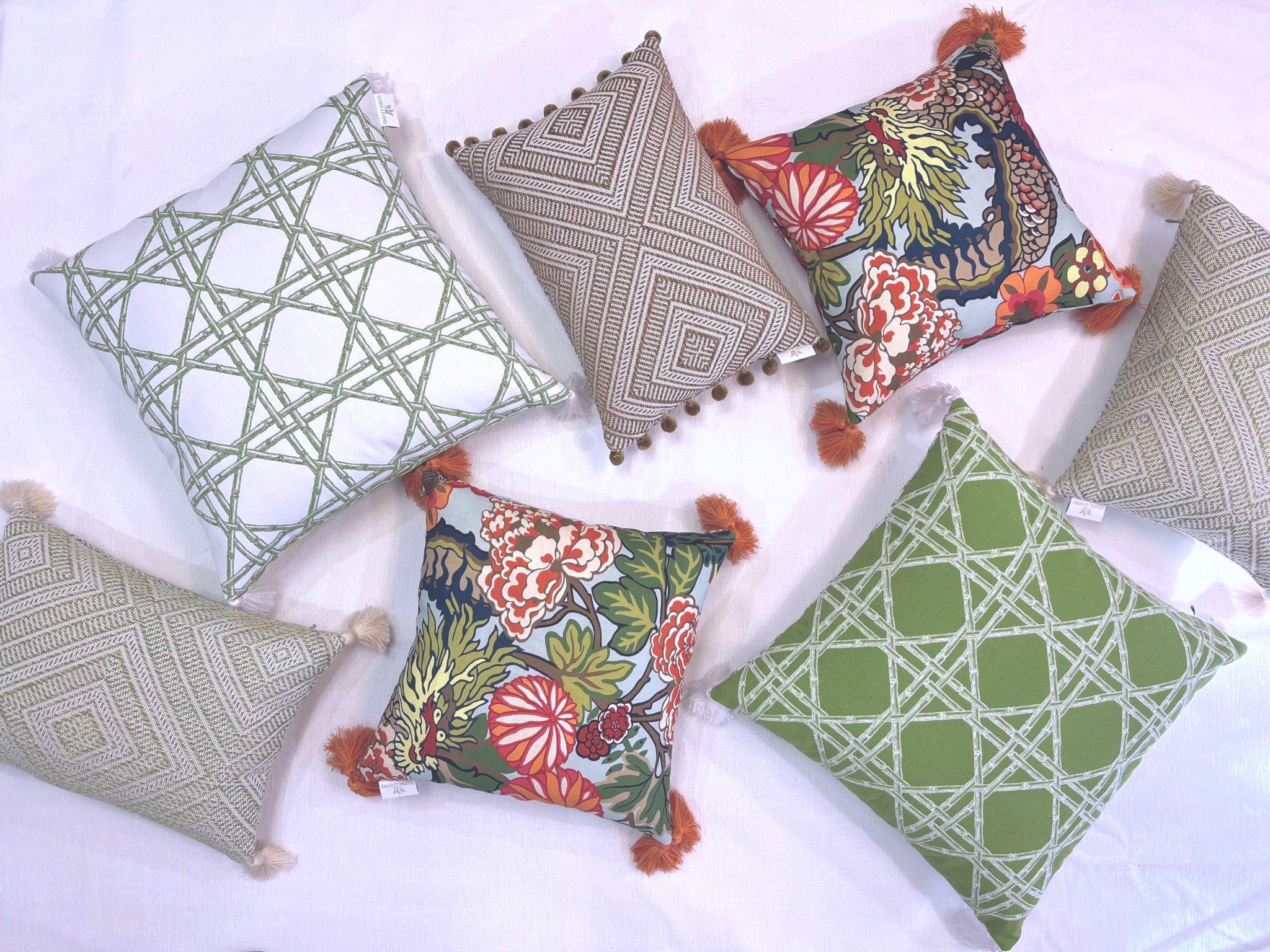 Mixing and matching patterns and colors can expand your design capabilities, but doing too much can overwhelm the room. Mix in solid colors every so often to break up the lines and shapes of your patterns. Also, keep your patterns flowing throughout the entire room, not just regulated to one side.
As a general rule, use at least three patterns in a room. For example, group together a floral, stripe, and polka dot. Another pattern group that works well together is herringbone, stripes, and paisley. A third group of patterns could be two different sizes of plaids and a floral.  When mixing patterns, the goal is to match prints with different scales, which will help create drama and interest.
Decorative Pillow Edging & Trims
The finishing style you choose for your pillows can have a significant style impact and range from minimal to extravagant depending on your taste.  The most basic pillow construction is called Knife Edge, which is just two pieces of fabric that have been sewn together around the edge to form a sharp, simple seam.
From there, the most common trim used for finishing is called "piping" or "welt," as those in the industry refer to it. Welts can be done in various thicknesses and can be made in coordinating or contrasting fabric to the pillow itself. If you want to add dimension to your pillow, you can try adding a "flange" which consists of ½"-3″ of fabric beyond the dimensions of the pillow.  For a high-end finish, a mitered corner can help create a more tailored look
Aside from fabric, you can also explore other trims such as pom poms, tassels, cording, or  fringe to help create interest and add color. Trims can help transform your pillow to a more whimsical look, by using pom poms, or add sophistication by adding an embroidered or jacquard taped border. Regardless of your style, there are trim options available for any look and budget.  Talk with one of our designers today and explore the endless possibilities.
Stunning Custom Cushions for Every Space and Style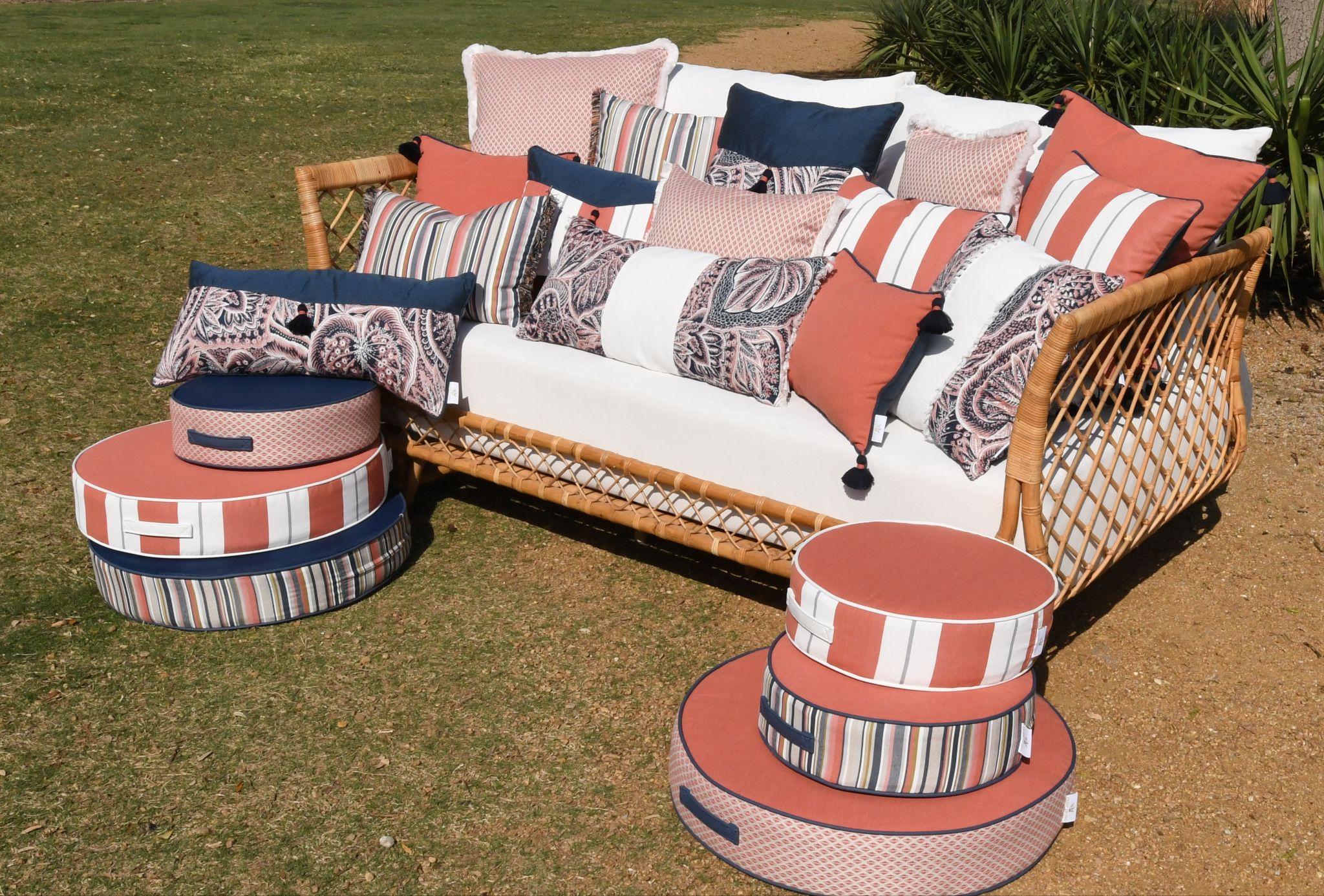 Now that you know how to mix and match pillows, it's time to start looking for colors, patterns, and textures. Yet, you might still be unsure how to go about it.
With over 20 years of experience, Cush Living specializes in creating cushions for every space, from family rooms to outdoor living rooms.
Our designers use your inspirations and color palette to curate beautiful, high-quality, and luxurious cushion fabrics. Our durable fabrics can be used indoors or out for ultimate flexibility, and our manufacturing facility can handle both small scale and large scale projects. Contact us to get started!
Recent Comments
No comments to show.