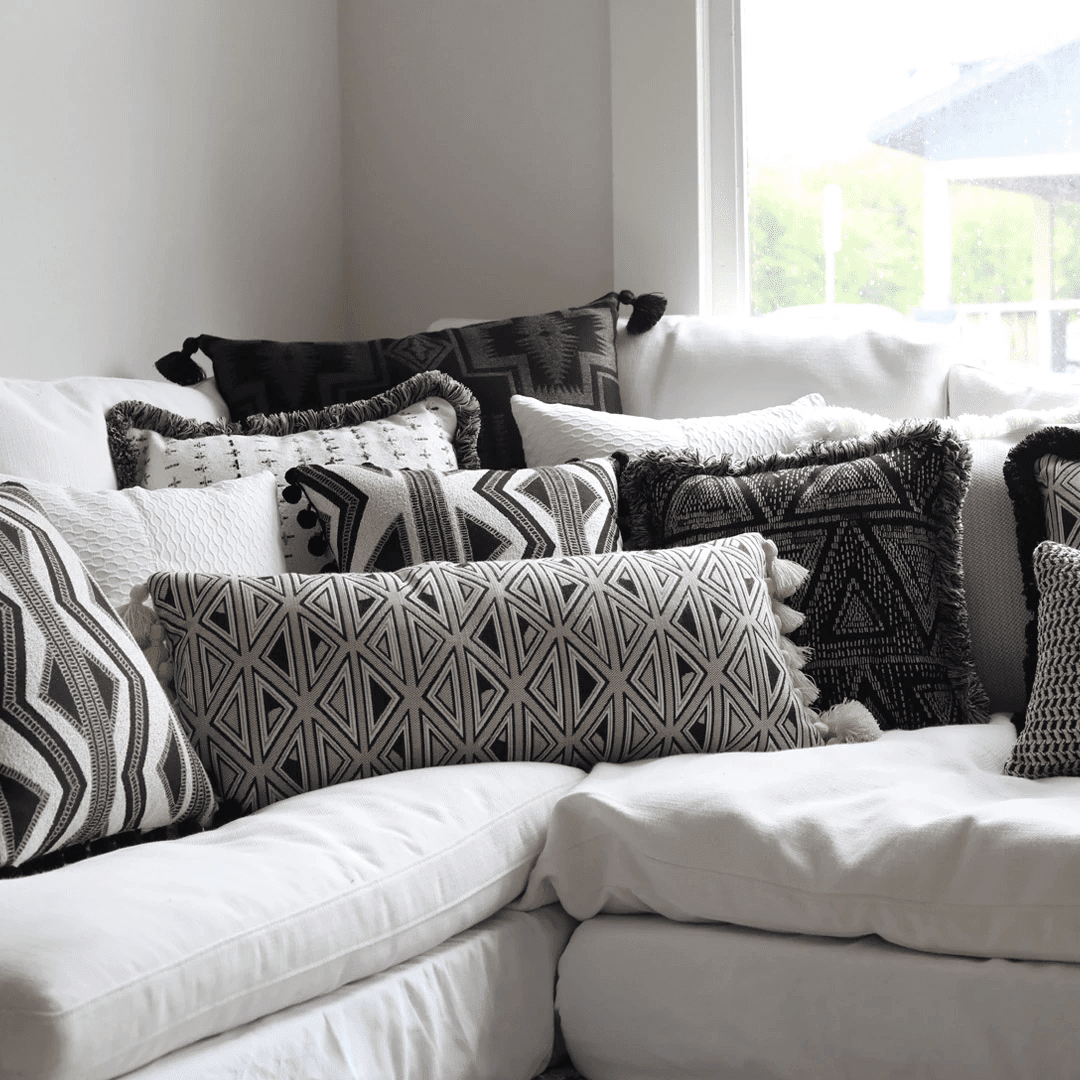 Some people are able to maintain beautiful furniture through sheer care and effort. For the typical everyday family, however, a little extra help from a durable fabric can make a big difference.
Fabrics made to be especially durable are commonly referred to as performance fabrics, and they're usually made from a synthetic fiber (like acrylic or polyester fabrics) or a solid sheet (like vinyl). Indoor-outdoor performance fabrics are available in a variety of family- and kid-friendly styles.
Features to Look For
To find the most durable fabric for your family, look for convenient features like the following.
Strength and Resilience
The fabric you choose should be able to withstand a good amount of abuse without ripping, tearing, or stretching. This is especially important if you have young kids, pets, or other household members who might cause a little more stress on the cushions. House rules can encourage your family to treat furniture with care, but a heavy-duty fabric is an excellent insurance against wear and tear.  For high traffic areas, the higher 'double rubs'/abrasion the better!
Dirt and Stain Resistance
With everyday use, your furniture cushions are likely to see a fair few food spills, dirt smudges, and other surface spots. Children and pets bring their own messes, too, making resistance to dirt and stains a key feature. A synthetic fabric treated with stain-resistant coatings does a good job of preventing stain absorption and is easy to clean.
Colorfastness (and UV Resistance)
When you want a piece of furniture to last a long time, it's important that its color stays bright and beautiful. This is especially true for indoor cushions that need to be cleaned often, as well as outdoor cushions that are exposed to sunlight.
Choose a cushion fabric that is extremely colorfast, like a solution-dyed acrylic with consistent color built into the material. If they're outdoor patio cushions, look for one that resists UV rays to protect against sun damage and bleaching.
Water and Microbe Resistance
A water-resistant fabric will resist most spills and some precipitation, while a waterproof fabric will resist all water and prevent the core material from being soaked through. Keeping cushions dry is also important in preventing the growth of mold and mildew. Many fabrics are also given antimicrobial treatments to stave off these issues.
Comfortable Texture
The last thing you want for your family is a scratchy, itchy, or stiff set of cushions. Fortunately, a variety of fabrics on the market today are quite soft and pliable. Consider whether your cushions will be more comfortable with a woven material feel or a leather-like vinyl texture.
Forgiving Colors and Patterns
When all else fails, choosing mid-range colors and lively patterns can help camouflage any issues that do arise. While a good fabric should be able to prevent discoloration and damage quite well, accidents happen. Picking an upholstery fabric that distracts the eye from any spots or scrapes is a great backup.
Let Us Help You Find the Perfect Furniture Fabric
Need inspiration or assistance with choosing the right fabric for your custom indoor or outdoor cushions? Check out our lookbooks online or contact us with questions today.
Recent Comments
No comments to show.