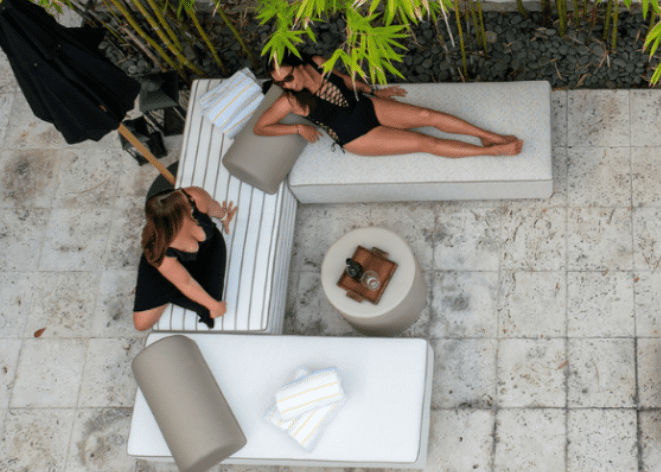 Like so many things in life, choosing the right fabric for your outdoor furniture is something of a balancing act. If you're looking to maximize luxury on a budget, these top-quality brands offer outstanding style and performance for less.
Mariaflora
Made in Italy from the highest quality of solution-dyed acrylic material, Mariaflora is the peak of luxury at a surprisingly comfortable price point. Everything about Mariaflora fabrics is done in-house by a team of skilled artisans, from local yarn sourcing to finishing touches.
Impressively, Mariaflora is the only indoor-outdoor fabric manufacturer in the world with its own patented acrylic material. Locally sourced Italian yarns are carefully engineered to mimic the properties of natural materials like linen, resulting in an attractive, high-performance fabric that's soft to the touch.
With a variety of classy, beautifully woven patterns and color options, Mariaflora is a go-to brand for an expensive European look without the actual expensive fabrics.
Perennials
Another highly lauded luxury brand, Perennials is a Texas-based company that prioritizes performance. Since its founding in the late 90s, Perennials has been a leading manufacturer of durable solution-dyed acrylic textiles with exceptional in-house design. Quality materials and trademarked technology make their fabrics stain-resistant, mold-resistant, colorfast, easy to clean, and safe to bleach.
Perennials' fabrics do cover a wide range of price points, which means that not all of their products are necessarily budget-friendly. However, a portion of their selection does fall into a more affordable range, allowing you to bring their iconic luxury style into your home without going overboard.
Tempotest
Tempotest may not be marketed as a luxury brand, but the products definitely fit the bill. Based in Italy, Tempotest offers a variety of gorgeous, high-quality, affordably priced fabrics with a distinctive Italian style. Manufacturer Parà Industrial Group has been in the textile business since 1921, allowing today's designs to be honed from over 100 years of knowledge and experience.
All Tempotest fabrics feature a Teflon™ technology surface treatment and Hi-Clean finishing that give them superior resistance to oil, grease, water, dirt, mold, fungus, and more. With easy maintenance, reasonable pricing, and a luxurious fabric look and feel, Tempotest is a good middle ground option for indoor furniture, outdoor shading, marine use, and more.
Outdura
Another top choice for luxury without the label is Outdura. Made in the USA by Sattler, Outdura performance upholstery fabrics combine resilient engineering with classic, versatile designs. Sattler also offers a custom weave-to-order program, allowing you to create exactly the look you want.
As a solution-dyed acrylic product, Outdura features lasting color, extreme durability, microbe resistance, easy cleaning, and more for years of outdoor use. In addition to offering a wide variety of high-quality textiles at an affordable price, Outdura fabrics come with a 10-year warranty.
Sunbrella
An international brand with over 60 years of history, Sunbrella is another quality choice for affordable, luxurious fabric at a non-luxury price. Customers can choose from multiple product lines at different price points, allowing you to find the right fit for your furniture and wallet alike.
Sunbrella has an impressive catalog of fabric options featuring a broad range of colors, patterns, additional finishes, and more. Many of their products are also recyclable through the Recycle My Sunbrella program, making this brand a great one for environmentally conscious consumers.
Find the Perfect Fabric for Your Custom Outdoor Cushions
If you're looking to achieve a luxurious look on a budget, we at Cush Living can help you explore your indoor-outdoor fabric options. Find furniture inspiration on our website, or contact us to discuss your vision for custom cushions.
Recent Comments
No comments to show.