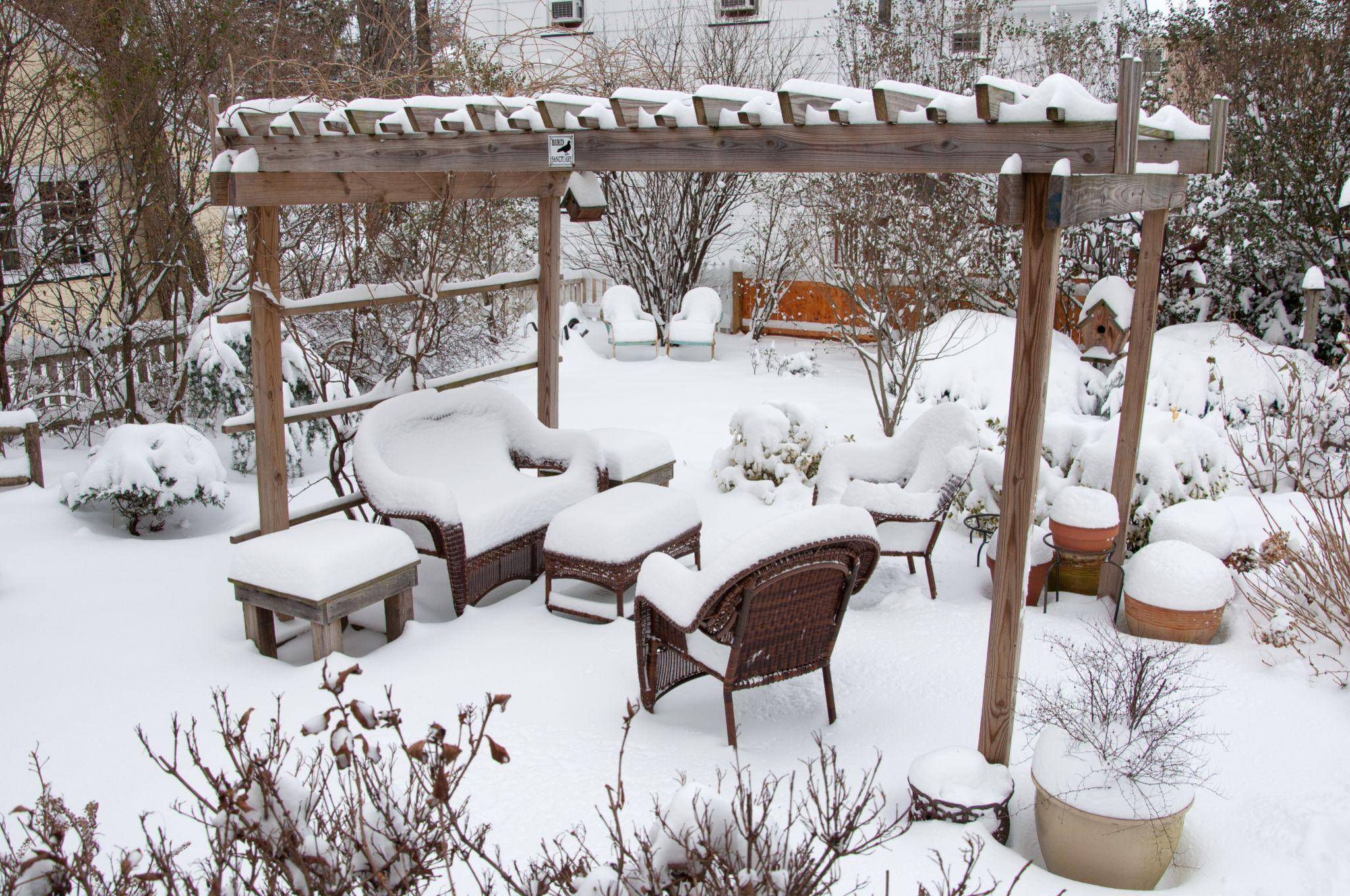 For most of us the summer or early fall signals the end of outdoor barbeques and backyard bashes. With a few simple design elements, however, you can turn your outdoor space into a year-round sanctuary.
We've taken our inspiration from the Danish hygge style (pronounced "hoo-gah"). Hygge emphasizes coziness, warmth, and togetherness through the notoriously long and cold Scandinavian winters.
No need to get out the furniture covers this year. Here are five ways to winter-proof your patio and keep the good times going, even when it's downright chilly outside.
1: Winterize outdoor furniture.
Performance fabrics make it possible to bring comfortable seating options like sofas, sectionals, and cushy armchairs to the great outdoors. Weather-resistant fabrics like polypropylene are engineered for outdoor living and designed to withstand the elements, from sun and wind to rain and snow.
If your current outdoor patio furniture isn't up to the task, think about winterizing these furniture pieces by reupholstering with durable and stylish performance fabrics. These high-quality fabrics are designed for all seasons, including fall and winter. They are mold and mildew resistant and designed to protect your furniture—even in freezing temperatures.
2: Design for outdoor activity.
There's no better way to lure friends and family outdoors in the winter months than with fun activities. A fire pit creates a mesmerizing gathering space to get warm, roast marshmallows, and play games. An outdoor pizza oven is another great way to get people outside in cold weather. Host a pizza party where people create their own pie, and let the fun unfold.
3: Heat things up.
The same patio heaters that let you enjoy al fresco dining at your favorite restaurant can keep you toasty at home, too. Freestanding space heaters are surprisingly affordable, running between $125 to $250, on average.
These powerful heat sources create a heating radius of up to 250 sq/ft—more than enough to warm the space for a 4-6 person table. Portable lantern-style heaters are another great option since they can be positioned to direct heat just where you need it.
4: Add sparkle with lighting.
Good lighting instantly elevates the mood of an outdoor space. Lanterns, string lights, and chandeliers will draw people outside, even when it's cold.
Use mounted lighting or waterproof string lights on your gazebo or pergola to create warm ambiance above a seating area. Add lighting on paths to illuminate landscapes and make walkways safer. There are endless lighting options to help you design an inviting outdoor space.
5: Protect from the wind.
Nothing crashes a party like gusty winds, but there are solutions. If you have an open patio, curtains or roller shades can help absorb frigid breezes. If your outdoor space is completely exposed to the elements, a canvas yurt or teepee-style tent can help shelter you from the wind while creating an interesting focal point.
Don't forget to put out a few blankets or throws for your guests. Fleece, chenille, and wool are great choices since they're ultra-soft and more moisture-resistant than fabrics like cotton.
Let Cush Living Winterize Your Outdoor Space
The experts at Cush Living will help you create a cozy outdoor space you'll love—even in the colder months. We specialize in custom made cushions and pillows for outdoor luxury living and offer in-home design consultation for folks in the Dallas area as well as virtual online services.
Our process is simple: Tell us about your project, and our talented design team will collaborate with you to bring your vision to life!
Recent Comments
No comments to show.