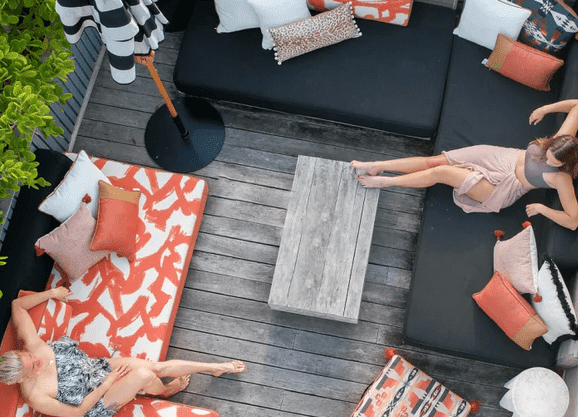 With warmer weather finally here, it's time to create beautiful outdoor spaces. But unsightly mildew growing on outdoor furniture surfaces can be impossible to get rid of and make even new furniture look old and outdated. If outdoor cushions and pillows can't be salvaged, consider replacing them with the following fabrics.
Solution-Dyed Acrylic Fabric
If you're looking for a fade-resistant, incredibly attractive material for your outdoor space that also dries quickly, solution-dyed acrylic is the high-quality performance fabric to choose. Mildew-resistant solution-dyed acrylic is optimal for outdoor furniture because it's very low maintenance, not to mention stain-resistant and UV-resistant.
But that's not all—solution-dyed acrylic is also very durable and easy to clean, making it ideal for homes that demand child and pet-friendly surfaces. Superior weather resistance and antimicrobial superpowers are also fantastic features of solution-dyed acrylic.
What's the secret to this amazing multitasker? It's polymer fiber, for one. This fiber is naturally UV-resistant, which can extend the life of your cushions and pillows by years. The way in which it is dyed locks color in when the fiber is still in liquid form. Then, the acrylic is placed into a solution, which allows for further color-locking as well as added strength.
Olefin/Polyolefin Fabric
Olefin is a synthetic fiber that's made from polypropylene, which makes it another great choice for your outdoor furniture. Olefin's ability to wick away moisture, along with its water resistance, are two of many reasons why homeowners love this fabric.
A word of caution, though; olefin doesn't respond well to extreme heat or direct sunlight, so it's best for shady areas.
Marine Vinyl
Marine vinyl is a popular outdoor material because it's easy to clean, can stand up to intense summer sunlight, and is water repellent. Plus, marine vinyl is thick enough to prevent moisture from seeping in while it takes a beating from surprise summer storms and dry days.
In addition to its water-repelling superpowers, marine vinyl also resists mold and mildew, making it great for long-term outdoor storage. All of these properties also make marine vinyl a money-saving choice; this fabric can last up to 10 years with the proper care.
Polypropylene
Polypropylene is a great choice when it comes to outdoor fabric. This material works very well on outdoor cushions, pillows and ottomans because it's technically a type of plastic that is also difficult to stretch or rip. Polypropylene is very flexible and lightweight, not to mention rot, mold, and mildew-resistant.
The secret to polypropylene's excellent lifespan is its inactive dye sites, which trap liquids and other potential stain-causers between the fabric's fibers. This allows for cleaning with heavy-duty products like bleach, without the worry or risk of fading the color or damaging the fabric. If you're looking for something that can handle lots of wear and tear, polypropylene is an ideal option.
Exclusive and Custom Fabric Designs for Exceptional Exteriors
All-weather 100% solution-dyed acrylic offers the ultimate outdoor textile experience. Cush Living specializes in the creation of beautiful and functional outdoor spaces with innovative solution-dyed acrylic.
Our design concierge services include decorative pillow designs, custom outdoor replacement cushions, outdoor space design, and much more for a truly immersive and luxurious outdoor experience. Discover more at Cush Living today.
Recent Comments
No comments to show.