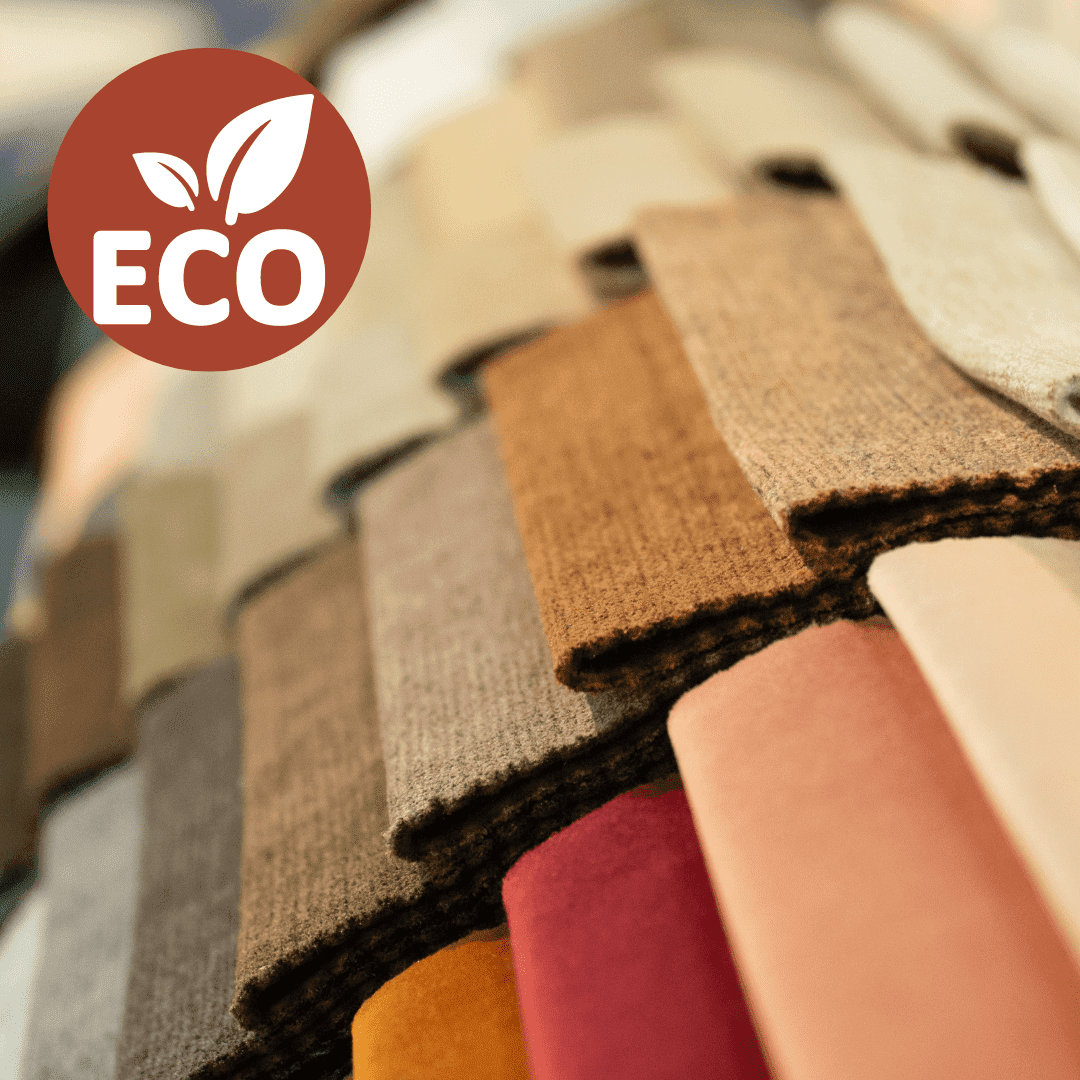 When it's time to consider replacing your outdoor cushions, one of your many fabric options will be synthetic olefin fabric. Olefin is considered to be incredibly eco-friendly, even though it's a man-made material. There are many reasons that olefin is known for its environmental friendliness. Here's why we love it!
What Is Olefin Made Of?
Olefin upholstery fabric, also called 100 olefin by those in the textile industry, is made from a combination of ethylene and propylene. Propylene, an oil production byproduct, is the primary ingredient in olefin. In the past, propylene would simply be burned off during production, because no one had any other use for it, or at least didn't know there was one.
What Makes Olefin So Eco-Friendly?
You may wonder how anything made from chemicals could be eco-friendly, but we assure you olefin has many environmentally beneficial characteristics—more than even cotton or wool!
Fewer Resources
The processing required to create olefin fabric requires no land or water; the polypropylene and ethylene are combined through melting before being made into fibers and dyed. As well, olefin is solution-dyed, meaning that melted color pellets, and not water, are used to dye the fabric. Let's look at how this compares to cotton and wool.
Cotton requires water, nutrients, machinery, and human energy to harvest and process. Wool is only available from sheep, which need water, shelter, and land to graze.
Materials Are Upcycled
As we said before, polypropylene was historically burned off before its use as a fabric was discovered. Now, this polypropylene is upcycled into olefin fabric.
Highly Recyclable Material
Olefin fiber offers high recyclability. All that's required to recycle this fabric is to send it through the melting process. Olefin is capable of being recycled up to as many as 10 times for use in new products. Bet you can't say that for other mainstream materials!
Far Less Waste
We mentioned before that olefin eliminates waste because it's a byproduct of oil production. This means a lot less waste out of the gate. Olefin's ability to be recycled so many times means that its production produces far less in the way of waste when compared to products made from wool or cotton.
Characteristics
Olefin is a popular fabric for its long list of desirable characteristics, as well as its eco-friendliness.
UV Resistance
We love olefin for outdoor furniture because of its high resistance to UV rays. Its fade-resistance is due in large part to the bulk dyeing of olefin's polypropylene thread. This occurs during the initial processing stage, which allows for color to be saturated and sealed in the fabric's fibers more thoroughly than other dyeing methods, which leave dye on the surface.
Wear Resistance
The way in which olefin fibers are closely woven makes the fabric incredibly strong and durable, making it possible to resist fading, tearing, and general wear and tear for years. Talk about value!
Static-Free
While it may not be the first characteristic you may be looking for in your outdoor furniture, the lack of static is another reason to choose olefin over other outdoor fabrics.
Moisture Resistance and Fast Drying
Moisture resistance is another characteristic of olefin that makes it a popular choice for our clients. The fact that olefin is synthetic is what gives it this great superpower. Olefin fabric not only stops moisture from seeping into the fibers, but also offers incredibly quick drying, making it absolutely ideal as an outdoor fabric.
By "moisture," we mean water, as well as other forms of moisture you may find outdoors—like chlorine and brine pools, wine, and juice.
Mold and Mildew Resistance
The moisture-resistant and fast-dry qualities of olefin mean that mold and mildew don't have an opportunity to invade or grow. Cotton, for example, not only absorbs moisture but gives it a home.
If you've ever noticed dark spots and a musty smell on cotton items that have experienced exposure to moisture over a period of time, those items have been invaded by mildew.
Effortless Cleaning
Incredible moisture and stain-resistant fibers are what make olefin so easy to clean. Because no liquid is allowed to penetrate, that means even the messiest of messes are not a problem. All that's needed is to spot treat with a gentle soap and water, allow to sit, and scrub gently before wiping clean.
Elevate Your Outdoors
Olefin's incredible eco-friendliness alone makes it a terrific choice for outdoor cushions and pillows. Add its durability, moisture resistance, and other characteristics, and you have a fabric that stays as gorgeous as the day you made it part of your home.
Now, combine all of the things that make olefin ideal with professional sourcing and in-stock and custom design, and you have unique and beautiful outdoor furniture with that "wow" factor you've always desired.
Cush Living is the choice for clients wanting a luxurious outdoor experience. Our curated collections and custom pillows and cushions are made with fabrics we source from only the best brands.
Every product we offer is made in our own 30,000-square-foot facility in Dallas. As one of the largest production capacities in the north of the state, we are able to take on projects of every size, from residential to commercial and beyond.
Our curated collection offers eight ways to express your personal style. Ready to begin the custom design process? We're excited to help you. Simply visit the design concierge to learn more about how we work, and then get in touch with us.
Recent Comments
No comments to show.