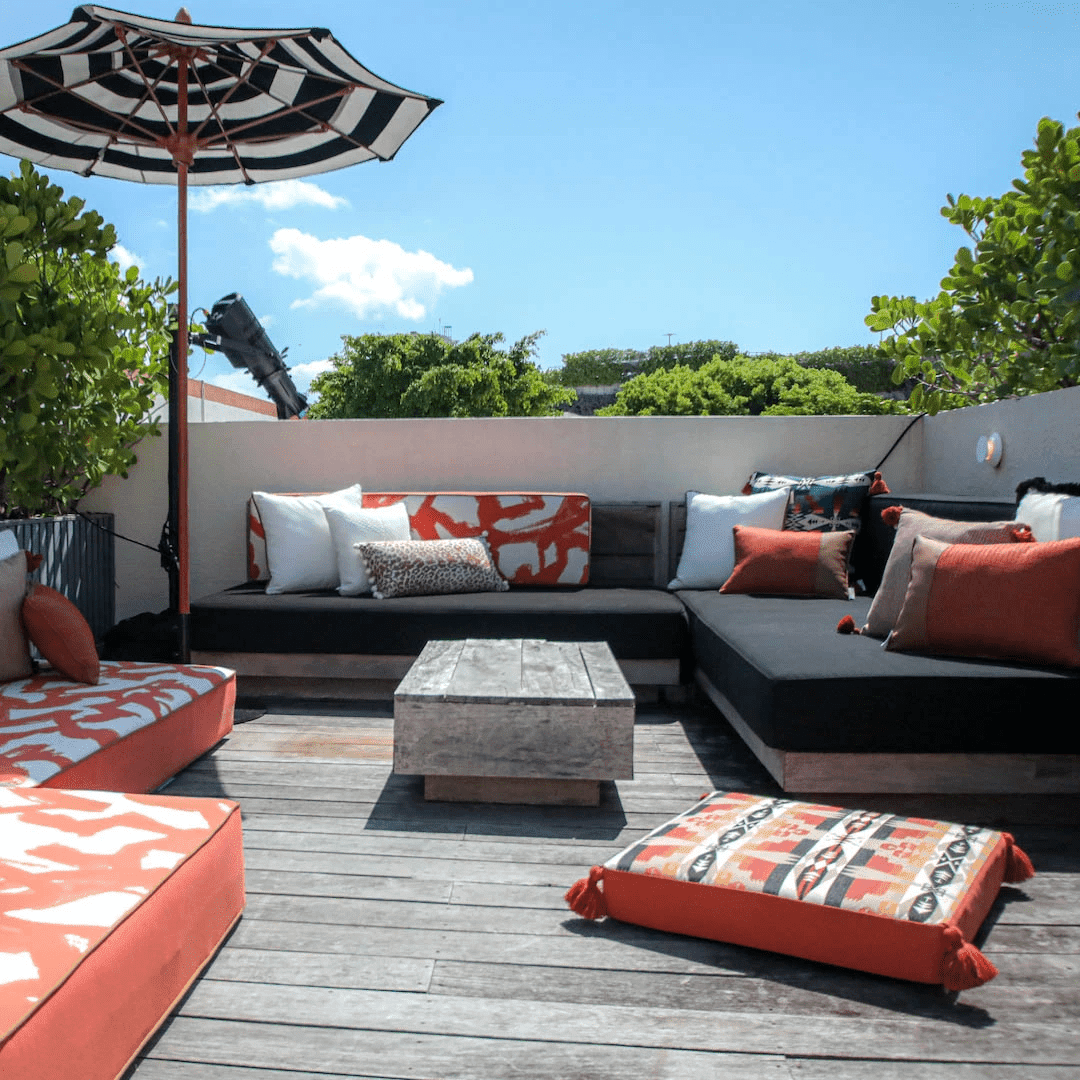 If you're going to spend time, money, and effort on creating an outdoor living space, your patio furniture and outdoor décor should be able to withstand the elements and maintain their look. Today's performance fabrics make for comfortable outdoor waterproof pillows and cushions that function beautifully, rain or shine.
More Than Just Water Resistance
Waterproof isn't just a description, it's a defined standard. A fabric that repels water in most situations but can still be soaked through is considered water-resistant. In order to be called waterproof, the fabric must be impenetrable to water and pass certain resistance tests. Cushions and pillow covers made with waterproof fabrics can withstand liquid spills, heavy rains, and much more without moisture penetrating through to the core material.
Of course, resistance to rain and other moisture isn't the only thing waterproof fabrics have going for them. These versatile indoor-outdoor materials have numerous other benefits.
Mold and Mildew Resistance
Materials that aren't waterproof can be an easy target for unsightly, destructive microbes like mold and mildew. Mold and mildew thrive in moisture, so waterproofing helps keep seat cushions and decorative pillows too dry for them to take hold.
Synthetic materials don't absorb as much moisture as natural materials, so these tend to be especially resistant. Indoor-outdoor cushion fabrics are also often treated with anti-microbial coatings, keeping these types of issues at bay even when rain and humidity are rampant.
Stain Resistance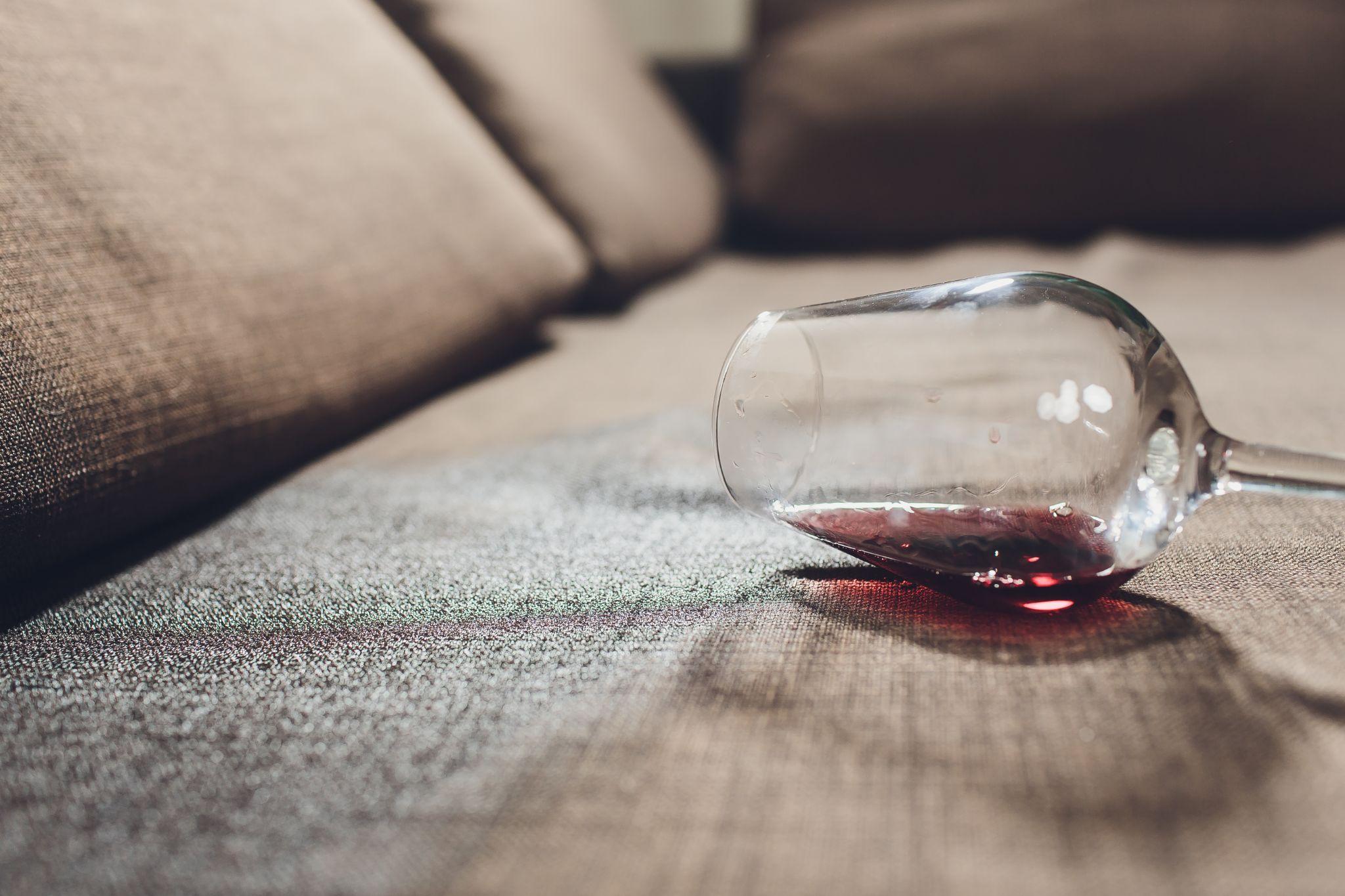 Indoor-outdoor performance fabrics are also highly resistant to soiling and staining. In most cases, outdoor cushion stains happen when something is able to soak into the material and deposit its color there. Waterproof fabrics don't allow moisture to soak into the material, preventing food spills, mud splashes and other messes from depositing color on the fibers.
In addition to the protection of waterproofing, the fabric may also be treated with other stain-resistant coatings. The result is a material that allows filth to be gently wiped or washed away, leaving no discoloration behind.
UV Resistance
In addition to rain, dirt, and other elements, your outdoor pillows and cushions will be exposed to a great deal of sunlight. Over time, the rays of the sun can take their toll on a material, bleaching it of color and fading its patterns. Fortunately, today's specialized indoor-outdoor fabrics are treated to protect against UV rays.
UV-resistant fabric maintains its look and remains vibrant and attractive for longer than other materials. Not only does it keep outdoor throw pillows looking great, it also extends the fabric's physical lifespan. UV damage can weaken fibers and reduce the integrity of the material.
Colorfastness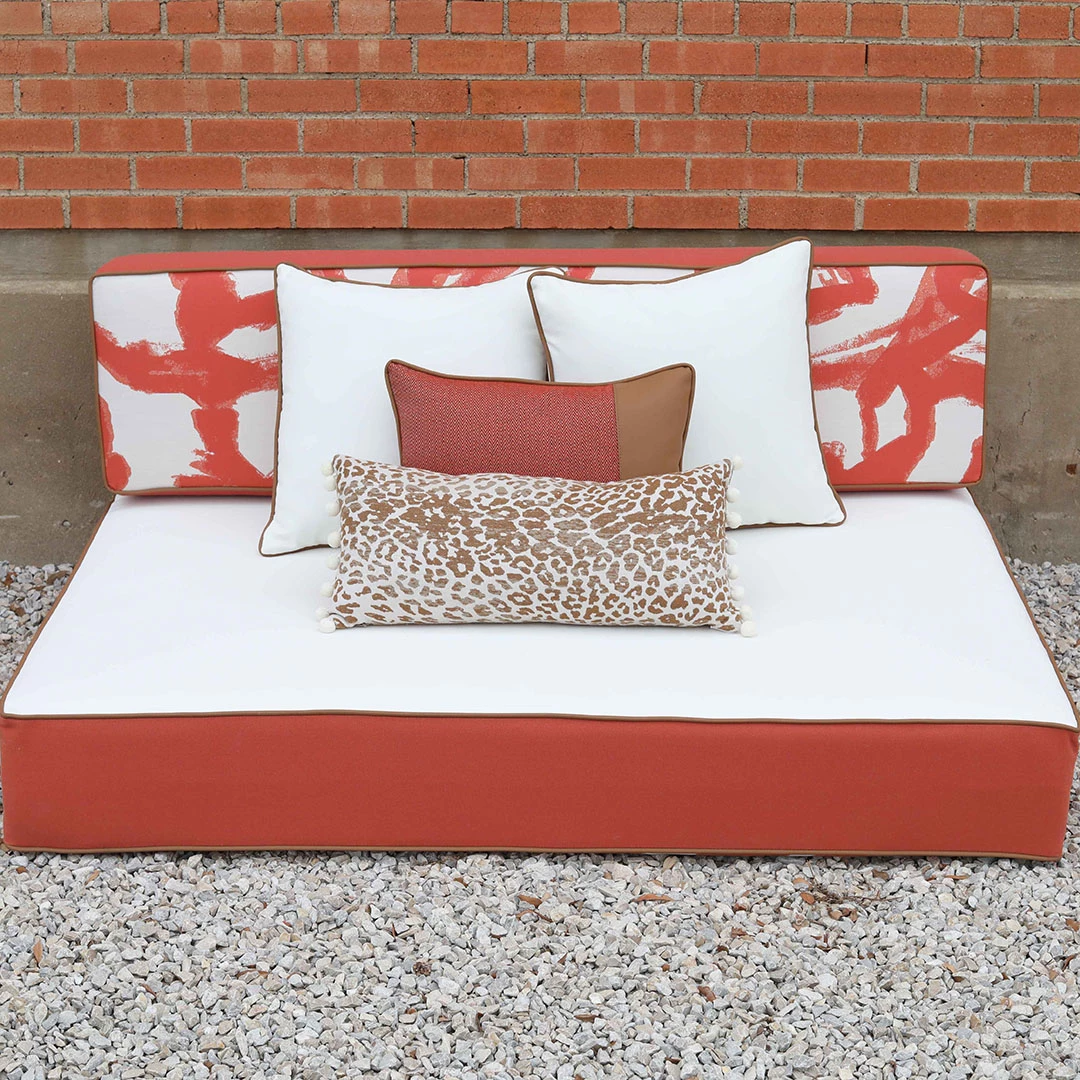 Synthetic waterproof fabrics are commonly manufactured in a certain color instead of dyed. This means that its original color can't be altered, faded, or scrubbed away. Even without any additional treatments to prevent mold, stains, and sun bleaching, the color of these fabrics would remain vivid and accurate for quite some time.
Durability
Waterproof indoor-outdoor fabrics start with a strong base. Synthetic materials like vinyl and solution-dyed acrylic offer a sturdy, solid fabric that doesn't feel stiff or scratchy. These materials are then treated to further protect against various types of damage.
Because waterproof fabrics are designed with outdoor use in mind, cushions and throw pillows made from them are able to stand up to all kinds of spills, impacts, and weather. Though it's important to take proper care of your cushions, you should always be able to use them normally without fear of tearing, stretching, scratching, or scuffing.
Ease of Care
The resilient nature of waterproof indoor-outdoor fabric means they need very little in the way of cleaning or maintenance. Dried dirt and debris can be gently brushed away, and anything that remains can be easily washed off without any harsh detergents or scrubbing.
Keeping waterproof cushions in good condition is simple. Gently clean any dirty areas with soap and water and allow the cushion to fully dry. To prevent accidental damage to the material and/or its coatings, always follow tag instructions and avoid using cleaners other than a mild soap. For an even longer lifespan, keep clean, dry cushions in storage when they're not being used.
Waterproof Indoor-Outdoor Materials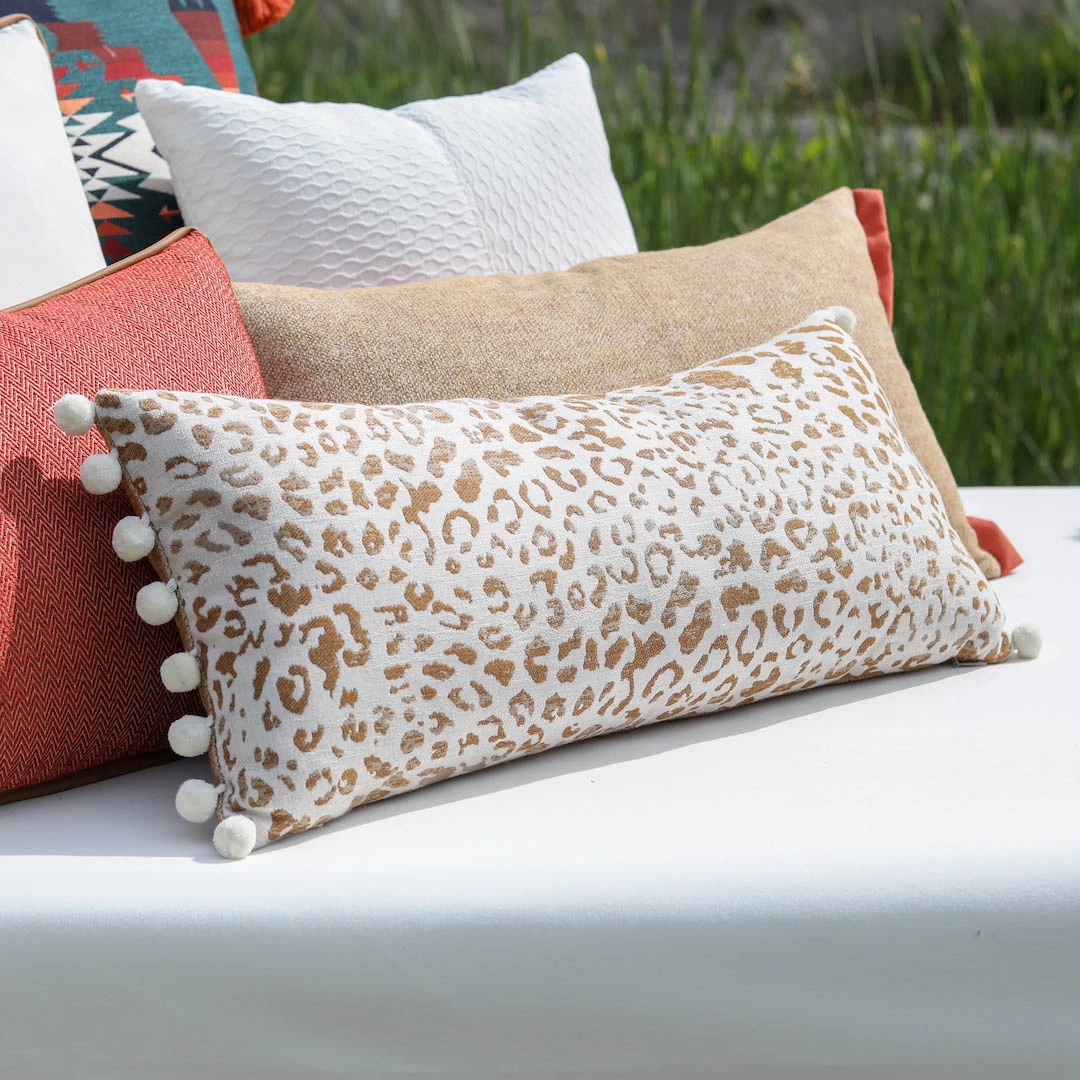 Waterproof outdoor cushion fabrics can be made from a variety of materials. Two popular choices are solution-dyed acrylic and vinyl.
Solution-Dyed Acrylic
Solution-dyed acrylic is a synthetic woven material with a variety of benefits and uses. It starts with a vat of liquid acrylic monomer, to which any desired dye colors are added. Once the color is fully mixed in, the liquid is carefully pulled into long strands of acrylic polymer. This fiber is then woven into a sturdy fabric and treated with coatings for extra resistance.
Because the dye is added at the beginning of the process, the color is a property of the fiber. The material doesn't need to go through any additional dyeing processes, and it's extremely vibrant and colorfast. Although it's a synthetic fabric, solution-dyed acrylic does an excellent job of mimicking the soft, flexible feel of natural fiber.
Marine Vinyl
Vinyl is a synthetic material known for great outdoor performance, making it perfect for marine use. When you're surrounded by water, it's important to make sure it won't soak into the core material of your cushions. Because vinyl is a plastic product, it has inherent waterproof properties that make it ideal for all kinds of marine craft.
Vinyl can be made in varying thicknesses, and the color can be added during manufacturing or applied to the surface later. Coatings can be applied to make it extra resistant to things like UV rays, preventing boat cushions from fading in the sun. It's also especially easy to clean, with a texture that allows things like sand, mud and food spills to be wiped off with a damp cloth.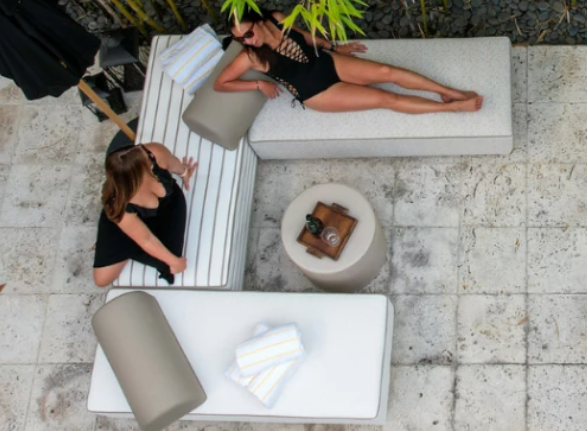 Get Resilient Custom Outdoor Cushions From Cush Living
If you want to create a truly unique backyard space, nothing says luxury like a custom-designed outdoor cushion or pillow set. Tell us a few things about what you have in mind and our talented team will develop a range of design options for you. Contact us today to get started, or take a look at our gallery and lookbooks for more inspiration.
Recent Comments
No comments to show.