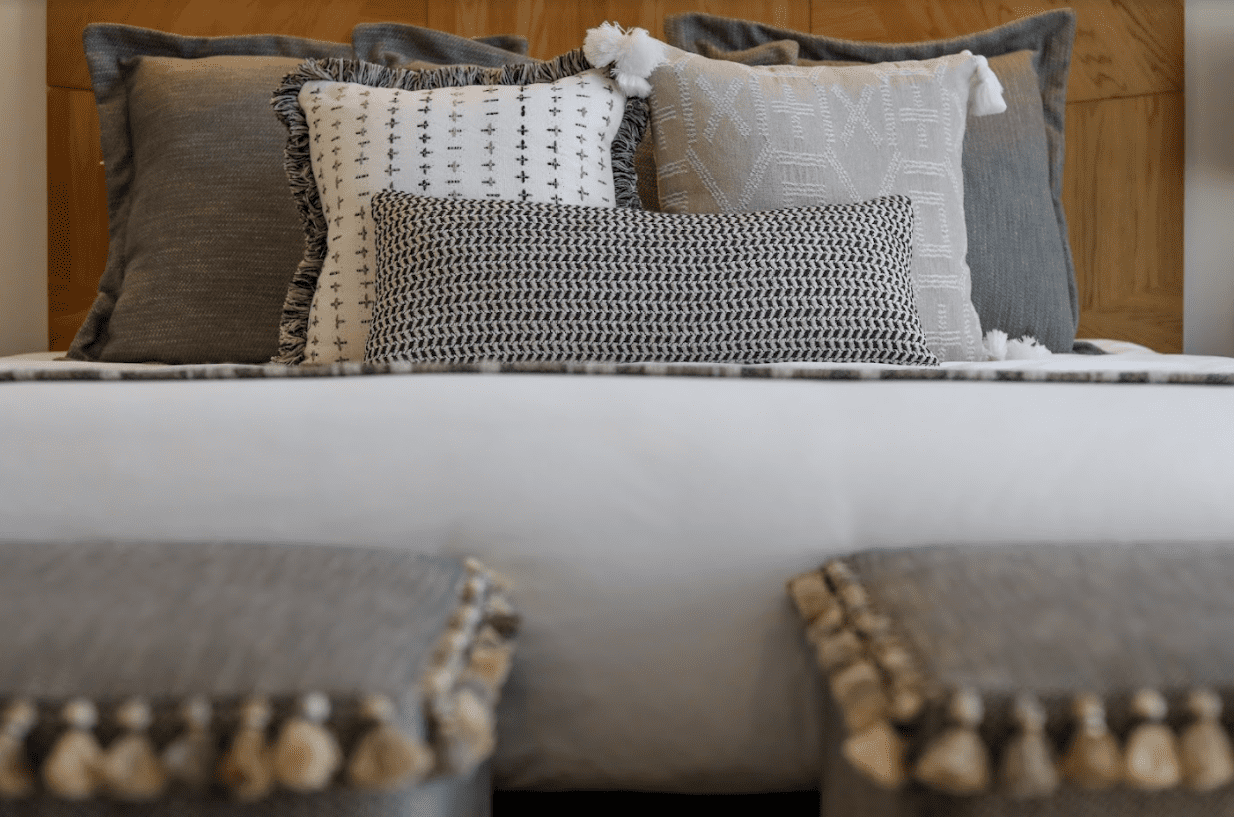 In homes with kids and pets (or adults with butterfingers), keeping furniture clean can feel like an impossible task. If you've lost one too many loveseats to the stain monster, it's time to talk about performance fabrics.
What Is Performance Fabric?
Performance fabric is specially designed to withstand wear and tear without sacrificing style or softness. These mighty textiles are inherently stain-resistant, easy to clean, and fade resistant, and their durable construction means they can withstand the wear of heavy use from kids and pets.
Wine parties? No worries. Sloppy joe nights? No problem. Even a white sofa is possible with these hardworking fabrics.
And when it comes to style, performance fabrics have come a long way. Today you can find stain-resistant fabric options in a huge range of colors, patterns, and textures—from mock velvet to faux suede.
Where to Use Performance Fabrics
Performance fabrics are made of resilient fibers like nylon, polyester, and acrylic. However, there is no discernible difference between these durable textiles and standard furniture fabrics when it comes to softness, comfort, and quality.
This means you can use performance fabrics on virtually any piece of furniture in your home, from sofas to dining chairs to outdoor loungers. But here's where they really shine:
Sunny spots – Direct sunlight can cause uneven fading on your upholstered furniture. Since performance fabrics are inherently fade resistant, they're the obvious choice for furniture near sunny windows.
Outdoors – Performance fabrics are mold, mildew, and water-resistant, and they can withstand extended hours of sunlight and even saltwater, which makes them the ideal choice for outdoor furniture.
Sofas, loveseats, and ottomans – Performance fabrics are a must for the place where you spend most of your leisure time at home: your favorite loveseat, chaise lounge, or sectional.
Dining areas – With their inherent stain-resistant properties, performance fabrics are the clear choice for upholstered dining chairs and barstools, especially those that get daily use.
Desk chairs – If you work from home, odds are your trusty chair gets heavy use. On average, performance fabrics last years longer than traditional fabrics.
How to Clean Performance Fabrics
Accidents happened—but a spill on your favorite loveseat doesn't have to ruin the evening. Due to their durable fibers and resistance to staining, cleaning performance fabric furniture is a snap.
The key is to treat spills as soon as they occur. For lighter messes, simply dab with a damp cloth. For bigger jobs, mix water with mild soap and gently clean with a cloth. And voilà! No need to fear coffee on the couch or muddy paw prints again.
Ready for an Upgrade?
Whether you need kid-resistant cushions and pillows or a durable pet bed for your fur baby, the experts at Cush Living will help you custom-design it.
We are your premier source for innovative custom cushion and pillow design, offering in-home design consultation for clients in the Dallas area and virtual online services.
Our process is simple: Tell us about your project, and our talented design team will collaborate with you to bring your vision to life!
Recent Comments
No comments to show.